At the SLO City Council meeting on September 20, Mayor Erica Stewart presented a proclamation to representatives of the Latino Outreach Council declaring September 15 to October 15, 2022 as "Hispanic and Latinx Heritage Month."
Here's the full content of the proclamation, which calls on all community members to honor a remarkable segment of our community and their contributions to every aspect of our lives, in particular that which we see "on our television and movie screens" and "in the music that moves our feet, and in the foods we enjoy . . ."
It's important to note that recent U.S. Census Bureau statistics indicate the percentage of the Hispanic/Latino population in the County of San Luis Obispo is approaching 24%.
Thank you to the SLO City Council for reminding us that we can appreciate and share diverse American traditions and celebrate our diversity together.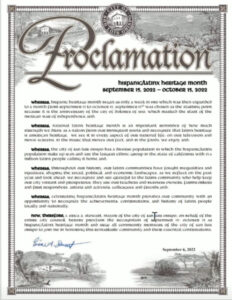 WHEREAS, Hispanic Heritage Month began as only a week in 1988 which was then expanded to a month from September 15th to October 15th. September 15th was chosen as the starting point because it is the anniversary of the Cry of Dolores of 1810, which marked the start of the Mexican War of Independence and;
WHEREAS, National Latinx Heritage Month is an important reminder of how much strength we draw as a Nation from our immigrant roots and recognize that Latinx heritage is American heritage.  We see it in every aspect of our national life: on our television and movie screens, in the music that moves our feet, and in the foods we enjoy and;
WHEREAS, the City of San Luis Obispo has a diverse population in which the Hispanic/Latinx population make up 18.8% and are the largest ethnic group in the state of California with 15.6 million Latinx people calling it home and;
WHEREAS, throughout our history, our Latinx communities have fought inequalities and injustices, shaping the social, political, and economic landscapes. As we reflect on the past year and look ahead, we recognize and are grateful to the Latinx community who help keep our city vibrant and prosperous. They are our teachers and business owners, farmworkers and first responders, artists and activists, colleagues and friends and;
WHEREAS, celebrating Hispanic/Latinx Heritage Month provides our community with an opportunity to recognize the achievements, contributions, and history of Latinx people locally and nationally.
NOW, THEREFORE, I, Erica Stewart, Mayor of the City of San Luis Obispo, on behalf of the entire City Council, hereby proclaim the recognition of September 15th to October 15th as Hispanic/Latinx Heritage Month and urge all community members of the city of San Luis Obispo to join me in honoring this remarkable community and their essential contributions.